I am delighted to have worked on a collectable set of illustrated fungi cards from around the world! These were be launched at the Victorian Moorabool Mushroom Festival on Saturday 15 April 2023.
The Deck of Mushrooms: An Illustrated Field Guide to Fascinating Fungi
by Dr Sapphire McMullan-Fisher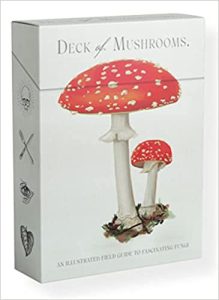 For those you that want to delve to the bizarre, this deck is an introduction to fifty of the hidden kingdom's most interesting mushrooms from around the world. Mushrooms have existed for millennia often being used throughout human history for food, medicine, and expanding the consciousness. Fungi have shaped and support our living planet. Like magic they appearing everywhere from fairy tales, health food stores to the current mycelium awakening.
There's an entire universe of fungi, much of which is yet to be discovered. To teach you some the basics, The Deck of Mushrooms features fifty types, including:
Ghost fungus
Spectacular rustgill
Sky-blue pinkgill
Trooping crumble cap
Pink oyster mushroom
Parrot waxcap
Indigo Milkcap
Golden-scruffy collybia
Shiitake
And the Velvet foot
On each of these fifty beautifully illustrated cards by Martz Zafra, published by Smith Street Gift. The text on the have been cards have been written by Dr Sapphire McMullan-Fisher. They are a fun way to learn about a different mushrooms habitats, their uses, and some of their history.
These are available in our shop: