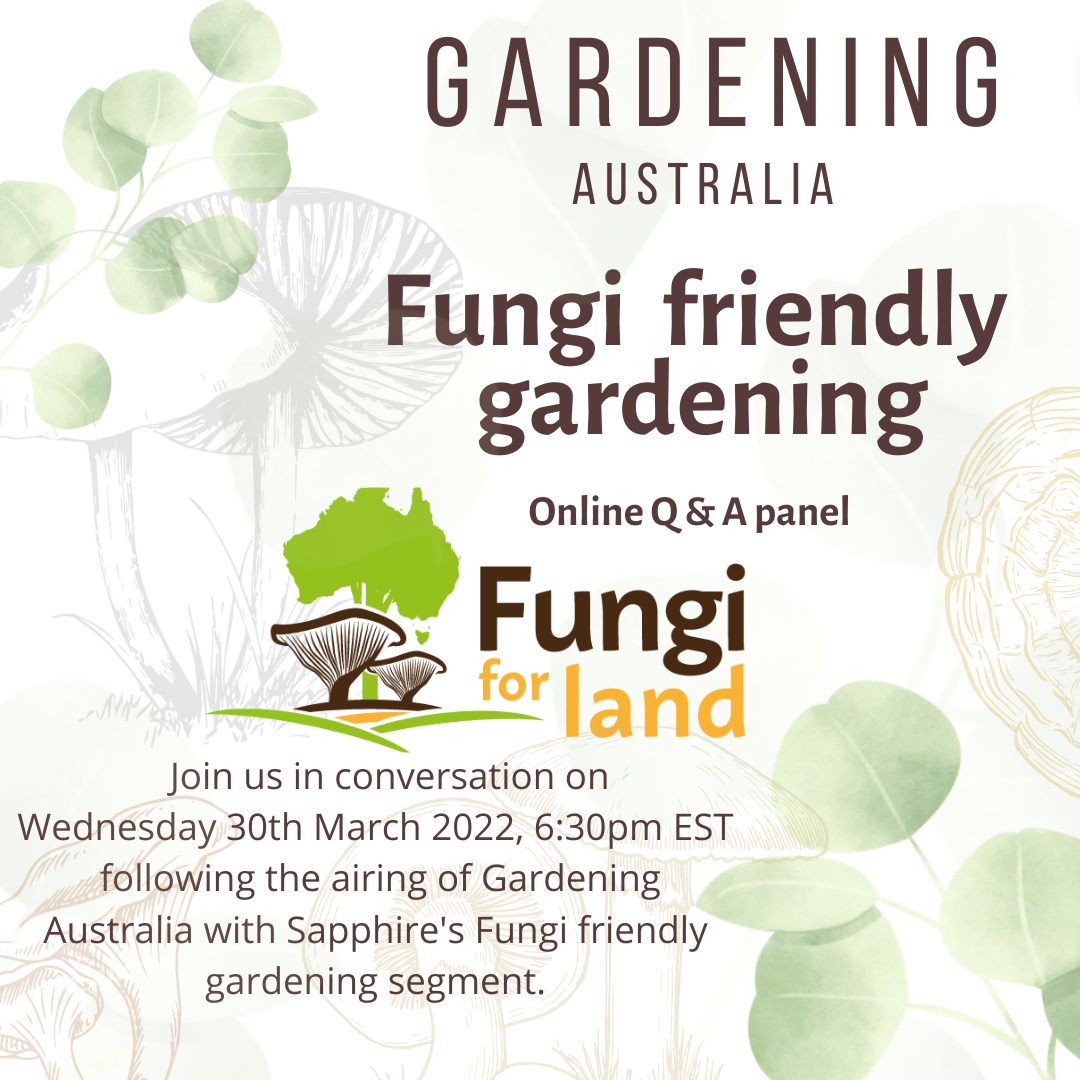 This event raised $200 to support Fungi4Land.
To watch the ABC Gardening Australia from segment here.
We are keen gardeners, mycologists, ecologists & conservationists:
Ema Corro
Tasha Nicholls
Roz Hart
Sapphire McMullan-Fisher
Our discussion will be facilitated by Melvin Xu. Questions will be submitted through the chat function.
Sapphire, Roz & Ema are working on Fungi4Land – read our biography here.
Ema, Natasha, Sapphire & Melvin are active with MYCOmmunity – Applied Mycology – read their biographies below.
Ema Corro
Ema loves everything about fungi and is always amazed by their ability to increase people's sense of connection with the natural world. She believes that the best way to protect the environment is to involve the community in all aspects of science and conservation. She is President of MYCOmmunity Applied Mycology which is an organisation that aims to raise awareness of the importance of fungi in health, sustainability and the environment, as well as providing scientific training and resources to the community. She is also project leader on the Wild Fungi DNA project which is developing environmental DNA techniques that citizen scientists can use to search for rare and endangered fungi. She has also researched using waste to produce sustainable mycelium-based construction materials.
Tash Nicholls
Tash  is happiest when outdoors. Besotted with the natural world from a young age, growing up exploring the coast lines and bushland of the Mornington peninsula, it makes sense that foraging for and growing her own food has grown from a passion to a career. Tash runs a small scale suburban micro-farm, Margaret's Mushrooms, is a keen citizen scientist, volunteers with MYCOmmunity and supports Fungi for Land, FunFungi Ecology, Fungimap Australia, Australian Food Sovereignty Alliance, Open Food Network and the Australasian Mycological Society. She also works part time as a lab tech for national supplier of fungi culture and spawn, Australian Mushroom Supplies.