I have put this together in the hope of helping everyone "think fungi" and broaden their ecological thinking. I hope you find something here of interest or that makes you want to dig deeper. I want this website to help find others who are interested in saving our natural world and think fungi and ecology could be used together to help us find better ways to live on our planet.
I have a house truck called Little Blue and I love getting into Australian bushland to teach and learn about the local fungi. I enjoy working with community groups to help them understand the importance of fungi in maintaining healthy bushlands. Come join me on an excursion and let's go meet the some of the amazing fungi of our bushlands.
Dr. Sapphire McMullan-Fisher Contact Sapphire at FunFungiEcology PO Box 967, Merlynston, Victoria, 3058, Australia
About Sapphire
Sapphire is an ecologist who has special interest in the conservation of biodiversity, particularly the macrofungi and mosses. She did her doctorate at the University of Tasmania on 'Surrogates for cryptogam conservation – associations between mosses, macrofungi, vascular plants and environmental variables.' In 2018 with Roz Hard and many Australasian Mycologists and amateurs in 'love' with fungi, started the project to develop a land management book for Australian Fungi with the working title Fungi4Land. Sapphire has been involved with Fungimap* since 1999 and many other Australian fungi groups including MYCOmmunity and QMS. She is a representative on International Union for Conservation of Nature (IUCN) Species Survival Commission (SSC) Specialist Groups: Species Monitoring and Mushroom, Bracket and Puffball. She is also active with Australian scientific groups like the Education Subcommittee of the Australasian Mycological Society, Australian Bryophyte Workshops and community groups including many Field Naturalist Clubs and Landcare groups and Australian Plants Societies. To read more about her research profile in Research Gate and LinkedIn.
Having lived in four states and traveled across Australia's landscapes she has been involved in many of the fungal community groups over the years. She has worked with many of these groups to raise the profile of local fungi and the important roles fungi play in our environment. She is involved in Habitat Conservation and Management Course and the Victorian Nature Stewards program. She particularly enjoys getting out into the bush to discover fungal treasures as often as she can.
Media:
Enjoy cartoon Sofia Sabbagh by 'A brief history of fungi in Australia' to discover how fungi help trees grow in Overland Journal.
Read 'Where the rainforest glows' to learn about glowing green clusters of the bioluminescent fungus Green Pepe (Mycena chlorophos) and Ghost fungi (Omphalotus nidiformis)  in Australian Geographic.
By Jennifer Johnston, Photography by Isaac Wishart • 29 August 2022.
Watch 'My Garden Path – Dr Sapphire McMullan-Fisher' segment on ABC Gardening Australia.
SERIES 33 • Episode 06 • 25 Mar 2022 – here.
Learn more: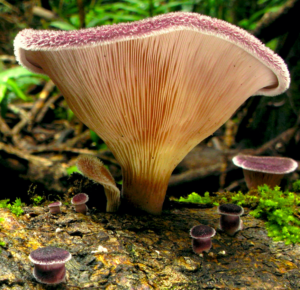 To read more about our macrofungi publications here.
Fun Fungi Ecology, Sapphire McMullan-Fisher, and this sites co-creators provide the information published and stored on this website and publications in good faith. While we take every care to ensure the accuracy of the works we publish, based on available science, and will under no circumstances be liable for the accuracy of the information published on this website. The information provided is general information only. Thus we will not be liable for damages of any kind, including (but not limited to) compensatory damages, lost profits, lost data, or any form of special, incidental, indirect, consequential or punitive damages of any kind, whether based on breach of contract or negligence or use of this website and its works.